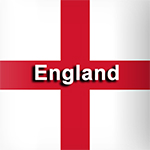 England, home of Cricket from the white cliffs of Dover to Hadrian's wall. With a Queen, Roast Beef and Yorkshire pud, Tea and Cucumber sandwiches (no crust please), Fish and Chips and the humble yet magnificent Willow, the Cork Oak and magnificent Hereford cattle. The last three, are the absolute essentials to the game of cricket. Home of such brands as Duncan Fearnley, Gray-Nicolls, Gunn, Moore, and Stuart Surridge cricket bats, watch a cricket bat is made from hand here. Home as well to British Cricket Balls Ltd manufacturers of the Duke's brand of cricket ball the official ball of England cricket. Watch a cricket ball being made here.
Home to the Marylebone Cricket Club(MCC), founded in 1787 and until 1993 the governing body of cricket worldwide. An absolute treat to visit for anyone remotely interested in the game of cricket. Their home is at the hallowed grounds of Lords, but let us not forget the famous grounds like The Oval, Edgbaston, Trent Bridge, and Old Trafford all steeped in the lore and legend of cricket. A dream of every aspiring cricketer to step onto these pitches, but if you sit quietly after all have left you may hear the crack of the willow and the cheers of the crowd.
England v Sri Lanka Second One Day International Edgbaston Birmingham 24th June 2016
Edgbaston Birmingham is my hometown and one of my favorite grounds. I spent a very enjoyable day with my friend Mike Raybone fellow England fan. It was a really good day for us England were firing on all cylinders and our opening batsman Jason Roy and Alex Hales were in a fi form giving the rest of the team a break from having to bat, both batsmen achieved undefeated centuries, with Roy scoring 112 not out and Hales 133 not out. Thank you lads for leading us to a 10 wicket victory.