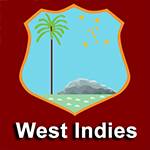 The West Indies is a whole series of islands in the Caribbean. The West Indies cricket team is an amalgamation of players from these islands.
When one thinks of the West Indies immediately sugar and rum come to mind. A tropical paradise with ties to pirates of old, lost treasures, reggae music (Bob Marley and Peter Tosh), dreadlocks, and of course cricket, cricket, and more cricket.
Think of West Indies cricket and immediately Sir Vivian Richards leaps to mind (who can forget his six sixes in one over?), Gordon Greenidge, Brian Lara, Sir Curtly Ambrose, and Courtney Walsh, are all living legends of this glorious game.
The West Indies where cricket is devoured with a fanatical ardor. Watching the passion that cricket evinces amongst its supporters and players is awe-inspiring. I don't think that many of the cricketing nations can match this. I have the honor to say that I have now been able to witness this firsthand on the recent England cricket tour. I must admit the fans are knowledgeable as well as being a very lively lot.
First ODI Sir Viv Richards Cricket Ground – Antigua 3rd March 2017
Antigua is an island with people of a sunny disposition and an extremely hot sun! Thank you to the inventor of air conditioning, this Englishman was glad of the respite it offered but I digress.
The Sir Viv Richards cricket ground was the destination for this first ODI International cricket match against the men in red. What an atmosphere walking into the cricket ground with all my fellow cricket fans. With the lively crowd and the music on hand, already things were humming and not a ball had been played yet.
Well done to Eoin Morgan on his 107 and Sam Billings and Ben Stokes for their half-centuries. England is looking good and fired up by the sunny weather. What a great start winning the first ODI by 45 runs.
> View the full article here <
> Man of the match: E. Morgan <
Scorecard
THE TEAMS AND OFFICIALS
---
Second ODI Sir Viv Richards Cricket Grounds Antigua 5 March 2017.
Antigua yet again for the second ODI.  One-nil up in the series, oh history please don't repeat yourself as with the South African series in 2016. The amazing crowd once again an atmosphere second to none. The sun still doing its thing. A rather more staid performance from both sides. Thank you to the cricket gods smiling on us Joe Root an unbeaten 90 and a win by 4 wickets.
THE TEAMS AND OFFICIALS
West Indies won the toss and elected to bat.
Man of the match: J.E. Root.
Scorecard.
---
Third ODI Kensington Oval Barbados 9 March 2017.
Bridgetown, Barbados home of the Kensington Oval. Hot weather, Hot crowd, and Hot England cricket.
Two-nil up in the series. What will the day reveal? An English team is on fire.
Alex Hales and Joe Root fired on all cylinders with 110 and 101 respectively, our bowlers in fine form the best being Ben Stokes with 4 for 27. Well done England winning by 186 runs and clinching the series 3 nil.
THE TEAMS AND OFFICIALS
West Indies won the toss and elected to field.
Man of the match: A.D. Hales.
Man of the series: C.R. Woakes.
Scorecard.